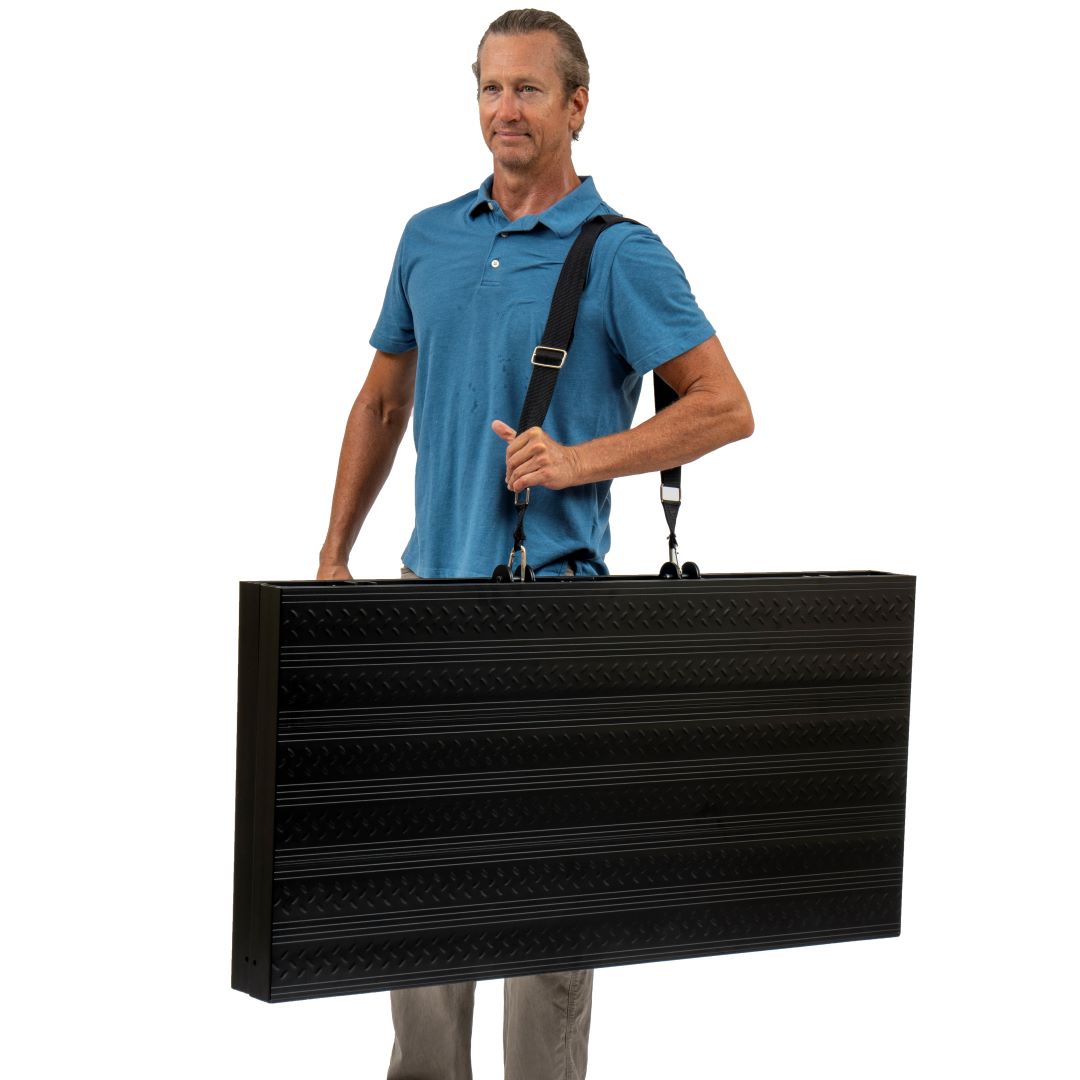 Having a reliable, versatile and easy to use portable stage platform is a great way to "step up" your event, make it more professional, and have a "stage presence" , especially those that involve performances and presentations. Portable stages have become more prevalent in recent years due to their many advantages, including easy storage, the ability to customize their size and design, and their versatility for indoor and outdoor events.
With their lightweight and sturdy construction, MyStage portable stage platforms are ideal for event organizers who need to set up and break down quickly without sacrificing quality or safety. They provide a professional and polished look and offer a safe and secure platform for performers and speakers, reducing the risk of accidents and injuries in the performance area. In this blog, we will explore the benefits of a portable stage platform and why investing in the right stage design is an intelligent choice for any event organizer or performer.
What is a Portable Stage?
A portable stage is a platform designed to move from one location to another. It is made from various materials, such as wood, metal, or plastic. It can be either lightweight or heavy-duty depending on the intended use. Portable stages are used in various events, including concerts, theater performances, Weddings, DJ's drummers, dance recitals, sporting events and corporate events. Their modular design allows different configurations and sizes. They provide enough room to accommodate the event's setup. The benefits of a portable stage platform are numerous, including ease of use, flexibility, and affordability compared to permanent stages, and mobile stages. Additionally, one can customize them with accessories such as stairs, handrails, and skirting.
Where can our Portable Stage Platforms be used?
MyStaeg Portable stage platforms are versatile solutions that can be used in various settings. Certain locations require particular setup, which portable stages are capable of. Concerts, festivals, and events are just a few examples of how these platforms can be utilized. In addition, they are perfect for corporate events, conferences, and trade shows. They can also be used for school and church events, theatrical performances, and community gatherings. It is worth noting that portable stage platforms are not limited to outdoors, as they can be set up indoors just as quickly. Furthermore, they provide excellent stability and safety, ensuring that performers, speakers, and audience members are always safe and secure. Overall, the benefits of portable stage platforms are numerous and provide a versatile solution for any event.
Difference Between Portable Stage, Mobile stage and Permanent Stage?
When it comes to staging, there are 3 main options: Portable staging, Mobile stages and Permanent staging. Portable stages, as the name suggests, can be easily moved from one location to another, Either carried or moved with wheels or a cart. Whereas a permanent stage is built into the space it's intended for. Mobile Stages are on wheels like a trailer or truck that converts to a large stage. Portable stages can be customized to fit any desired configuration, while permanent staging is generally designed to fit one specific layout. While a permanent stand may have some advantages regarding stability and durability, it's significantly more expensive than portable stages, and generally not versatile or able to be moved. Portable stages are not only more affordable but it's also more versatile. It can be used for a variety of events and venues with minimal fuss.
Advantages of Using Portable Stages
A proper stage is essential for any event or performance, whether it's a concert, theater production, or presentation. It sets the tone for the event and can significantly impact the audience's experience. However, not all venues have a permanent stage; this is where a portable staging platform comes in handy. A portable outdoor stage allows for flexibility and convenience, as it can easily be transported and set up in various locations. In addition to its practicality, there are numerous advantages to using a portable stage. From cost savings to customization options, this solution offers unique benefits worth exploring in more detail. So, let's delve into the advantages of using portable stages and discover how they can elevate your event to the next level.
Easy to Assemble
One of the main advantages of using portable stages is that it is straightforward to assemble. Compared to traditional staging systems that require extensive setup and installation, portable stages can be set up quickly and easily by just a few people. The lightweight and compact design of these platforms means they can be transported easily in almost any vehicle, making them the perfect choice for events outside of regular venues. On top of this, portable stages can be customized to fit any space, giving event organizers more versatility and flexibility when planning and designing their events.
Simple to Use and Store
MyStage Portable staging platforms are not only easy to assemble, but they are also simple to use and store. Unlike traditional staging systems that are often bulky and difficult to maneuver, portable stages are designed to be lightweight and easy to handle. Once assembled, they provide a stable and secure platform for any performance or event. They can be adjusted to meet the specific needs of the event. When the event is over, the platform can be quickly disassembled and stored away in a compact and space-saving manner, making it an ideal solution for those who need to pack up and move out soon. With their simple yet effective design, portable stages quickly become the go-to solution for event managers worldwide.
Flexible, Modular Staging Solution
MyStage Portable staging platforms offer unparalleled flexibility and versatility compared to traditional stages. They can be configured into any shape or size to suit various event types, from concerts and theater productions to corporate presentations and trade shows. Unlike permanent stages, portable platforms can be easily assembled and disassembled, enabling event managers to quickly adapt to their changing needs. These modular solutions also allow for effortless customization of the stage layout, incorporating unique features such as ramps, stairs, and multi-level structures. With portable stages, organizers can create stunning and unforgettable experiences for their audiences.
Lightweight, Strong, and Durable
Portable staging platforms are designed to focus on portability, making them lightweight and easy to transport. However, this does not compromise their strength or durability. Most platforms are made from high-quality materials, such as aluminum or steel, which can support significant weight without bending or breaking. They are also built to withstand the wear and tear of repeated setups and takedowns, making them a cost-effective investment for organizers. Furthermore, portable stages' lightweight and durable nature makes them ideal for outdoors, where weather conditions can be unpredictable. With portable stages, event managers can rest assured that their setup will remain stable and secure, regardless of location.
Conclusion
In conclusion, the advantages of using a portable staging solution are numerous and significant. These platforms offer versatility and adaptability, allowing them to be used in various settings and configurations. In addition, they are lightweight and easy to set up and break down, making them ideal for events that require quick setup times. Portable staging platforms are also highly customizable, with different sizes, shapes, and height options. Furthermore, these platforms offer excellent safety and stability than traditional staging methods, which can be crucial for events that involve large crowds or high-intensity performances. Investing in a portable staging platform can benefit organizers, performers, and audiences.